Join Douvris Martial Arts legendary Cardio-a-thon to raise money for Kids Kicking Cancer Canada on March 23, & 24 2019
Join Douvris Martial Arts legendary Cardio-a-thon to raise money for Kids Kicking Cancer Canada to help raise funds and awareness for this outstanding program!  Kids Kicking Cancer Canada is a not-for-profit organization whose mission is to ease the pain of very sick children while empowering them to heal physically, spiritually and emotionally through the power of martial arts.
The DMA 2019 Kids Kicking Cancer Canada Cardio-a-thon is a fun and challenging 90-minute cardio kickboxing class, led by DMA instructors at participating locations. All classes will feature music from Billboard's Top 40, making the 90-minute calorie-crusher a blast for everyone. Regardless of your fitness level, these classes are specially designed to be a fun challenge for all who sign up, guaranteeing you to leave exhausted and satisfied!
Participating locations:
Aylmer
Bank/OAC
Barrhaven
Orleans
Westboro
Dates:
March 23 and March 24 (check dojo for details)
How to participate:
Go to our Crowdrise.com page and click Donate to make a donation!
Click Register to sign up and agree to the online fundraising minimum of $30 for adults and $20 for kids! Don't worry, if you don't raise enough funds from friends and family; your credit card will be charged the minimum by February 28, 2019. Easy!
Kids can also ask for paper pledge sheets from their home dojos to raise funds that can be returned to the dojo the day of the event (if using paper pledge forms DO NOT sign up online).
Sign up and pay at the door!
Kids can register and pay online!  Kids who wish to register for free and fundraise a minimum of $20 should contact your chosen DMA location for instructions.
50/50 Tickets
 $1,000 prize
$2 Each | 3 for $5 | 7 for $10
Only 1000 tickets being printed
Tickets available at the front desk
Draw Date/Time: Sun. Mar 24, 2019 at 9 pm
Winner will be notified by telephone and posted on DMA website at www.douvris.com
Presence during draw not required
Must be 18+ yrs to participate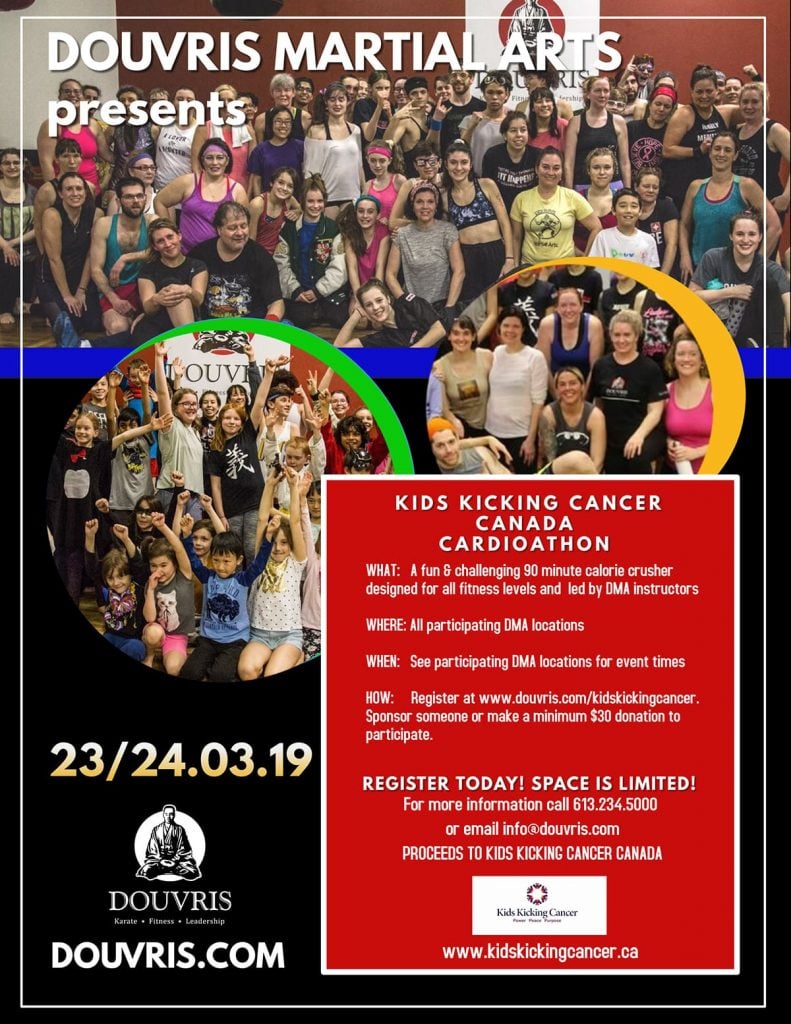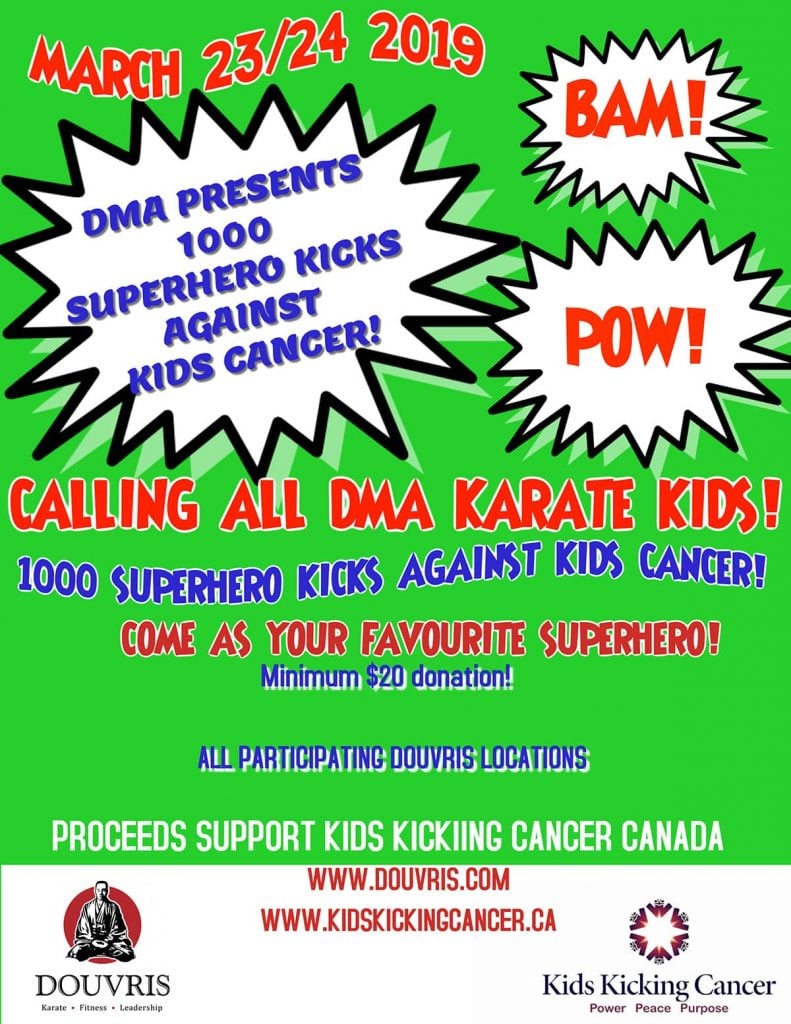 More about Kids Kicking Cancer Canada
Founded in 1999 in Detroit, Michigan by a black belt father who lost his first child to leukemia at the young age of two years old, Kids Kicking Cancer addresses the unique needs of children faced with life-threatening illness. Since then, programs have grown to help over 6,000 children throughout the USA, Canada, Italy, and Israel. Specially trained Black Belt martial artists teach the mind-body techniques of martial arts instruction, breath work, and meditation, as well as traditional (but zero contact) martial arts techniques to empower children to move beyond the pain and discomfort of disease. Children learn that "pain is a message they don't have to listen to"…they can breathe in amazing healing energy (chi) and push out their pain, fear and stress and empower them with a sense of Power, Peace and Purpose. Siblings are also welcome to participate and it's all at no cost to the families.
Since 2012, Kids Kicking Cancer Canada has been reducing pain and empowering Canadian children, inpatient, and outpatient, at Children's Hospital of Western Ontario and in their various community programs in the London, Ontario and Windsor, Ontario areas. For more information, please visit www.kidskickingcancer.ca and https://www.facebook.com/kidskickingcancercanada